Double wine basket with divider and plaque woven by Zsa Lobel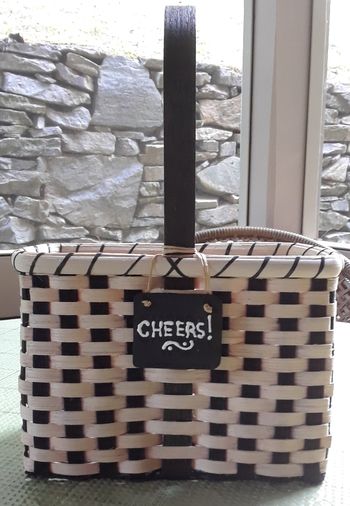 ---
Rene's Cropped Cardigan Jacket
Everything I make is somehow changed from the pattern — I take terrible liberties. I just can't stick to the rules.
Anyway, this pattern is the very first one in a book called Vogue Knitting Very Easy Knits published back in 1999.  I must have found it second-hand somewhere. It's meant to be a "Cropped Cardigan Jacket". The yarn is quite a bulky acrylic mix of some kind but I really don't know what because I got it one Wednesday afternoon at a knitting session at HWFA when someone was giving away some of their stash or HWFA was getting rid of their knitting stash. There were no labels on the yarn but no matter, I do love a bargain. 
I was given a few balls of the green and also some purple, but they were none of them from the same dye lot, as you can see from the way the green changes in the jacket. I knew I didn't have quite enough green to do it all, so I put on a purple edging and then I found that wasn't enough either, so I added a further edging — thus the two-tone purplish/orange edges. Of course, it's a fall/wintry kind of thing so it's going to be a while before I can wear it.  
I've just started working my way through another bundle of give-away yarn from HWFA.  This is another green, but plain green this time, acrylic again.  Normally, I eschew acrylic, being what's known as "a yarn snob", but good acrylic makes very serviceable garments, so I have put away my airs and graces and picked up my needles instead. I'm now making a cardigan with a collar — something I've not tried before.
I must say I miss visiting on the first and third Wednesdays; the knitting group is a very low-key, high-friendly bunch of lovely ladies who've offered me nothing but kindness and sound advice over the past six years.  Sometimes there are lively and interesting conversations and a person can learn quite a lot about things other than knitting; at other times, there is a convivial silence of concentration as we all work away.  
Rene Timmins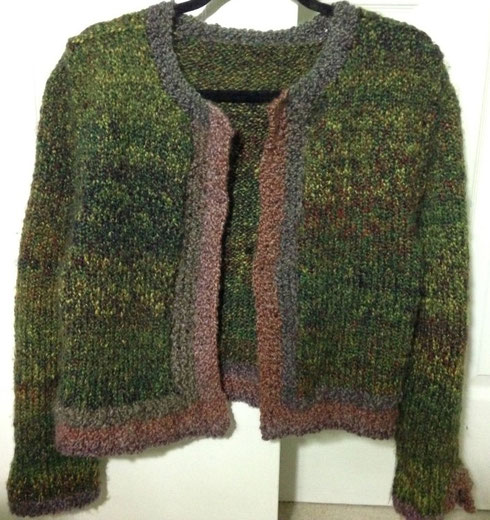 ---
Send your Show and Shares by clicking HERE.
Also feel free to comment below. 
Please check and see who has commented on previous blogs too.